Established by Flaviar & Friends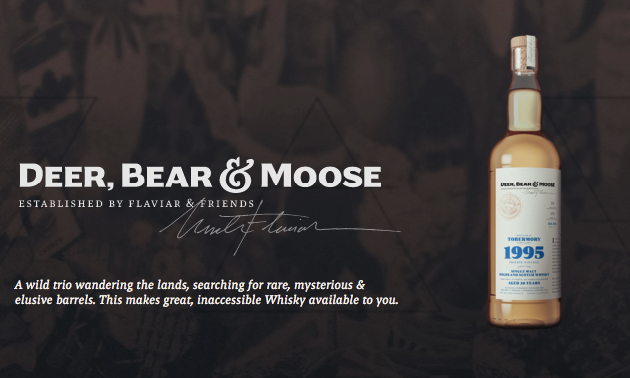 Flaviar introduceerde in december een nieuwe single cask reeks met de klinkende naam Deer, Bear & Moose (Hert, Beer en Eland).
De eerste editie is een 20 jaar oude single cask van Tobermory Distillery op het eiland Mull. Deze Tobermory is een ongeturfde single malt gedistilleerd in 1995 en rijpte in een hogshead barrel. Met deze omschrijving gaan we ervan uit dat het over een Amerikaans ex-bourbonvat gaat. Het vat werd gebotteld op volle sterkte - casks strength dus - en werd niet gefilterd. Het aantal flessen is onbekend.
Flaviarleden konden inschrijven via een loterijsysteem en mits wat geluk uitgeloot worden om een fles te kopen vanaf 28 december 2015. Kwestie van iedereen dezelfde kans te geven om er eentje te bemachtigen...
Dit heeft het Flaviar team zelf nog te zeggen over hun eerste single cask:
Tobermory does not just bear a mark of tradition that is continuing for more than 200 years. While it stays true to the simple ingredients of pure unpeated barley, its richly savory water is high on peaty phenols that transmit a subtle flavour to the Whisky just as it did centuries ago.

This extremely limited two decades old behemoth, distilled in 1995 and aged in a single Hogshead barrel, is everything what the Whisky crusaders of Deer, Bear & Moose are questing for. And it will only be sold once.
Identiteitskaart
Deer, Bear & Moose Tobermory 1995
Tobermory Distillery, Mull (Islands)
20 jaar oude single cask
55.9% ABV
Gedistilleerd in 1995, gebotteld in 2015
Hogshead #1094 | onbekend aantal flessen
Prijs: €135
Bron en afbeelding: Flaviar